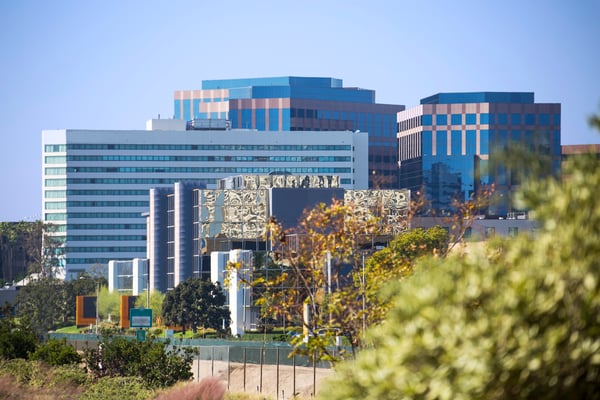 The market for office space in 2020 will be similar to last year, but businesses should be aware of the subtle differences before renewing their lease or looking for new office space.
Recently, we sat down with a few of the Irvine-based Aspect Real Estate Partners team including Co-Founders and Managing Directors, David Girty, and Gary Abraham, as well as Willis Pyle, Senior Associate to discuss the 2020 Commercial Real Estate Projections for Orange County.
Here's what they have to say about commercial real estate in 2020.
Demand for Office Leasing will Continue to Grow - at a Slow Pace
With the strongest recovery on record, building owners have more funds to spend on capital improvements including tenant amenities and more efficient and flexible spec floor plan designs. This suggests that Landlords expect demand will continue to be steady in 2020. The Aspect team anticipates that Landlords will continue to prioritize capital improvements compared to alternative investments and that they will bolster the value of their assets by being selective and diligently underwriting potential tenants.

Building Owners are Entering the Shared Office Space Market
WeWork's IPO (and in turn, its decision to slow down growth) had a profound effect on building owners who were exposed to the risks of leasing a large amount of square footage to one company. In 2019, building owners began to explore opening their own shared office spaces. It is anticipated to continue and grow in 2020, with building owners choosing to operate or increase their control over shared offices and reduce their risks.
Demand for Tenant Representation will Increase
Vacancy rates are projected to continue at a below-average percentage, giving Landlords the ability to be quite selective in leasing options. For tenants seeking desirable space in Orange County, having tenant representation becomes a must versus an option. New tenants are expected to present not just their financials, but in some cases, Landlords are asking for more detail such as marketing and business plans in order to qualify to lease the desired space. More than ever, having a commercial real estate broker when seeking to lease space is becoming a necessity. The competition for quality space is high.

Demand for Amenities will Increase
Desirable tenants also have demands for landlords. Landlords will find that in 2020 the demand for amenities, such as meals, gym, activities, will increase. Today's businesses are seeking a work/life balance and the ability to have a more comfortable experience in their work environments and are choosing buildings that provide these amenities. In addition to these, many landlords are providing work transportation to tenants, due to the continuous lack of parking in most Orange County buildings.
Annual Rent Growth Will Continue to Decrease
Office leasing rates should remain stable with potential declining rent growth. Despite the increases in rents that are commonly seen in Irvine, Irvine Spectrum, and Newport Beach, the annual office rent growth for Orange County continues to be at a below-average rate.
At Aspect, we're ready to help businesses grow and expand in 2020 and look forward to serving both office and retail tenants and landlords throughout the year.
For a current Market Report, please click here.
---
For office and retail commercial real estate insights, leasing, and consulting, please contact us.