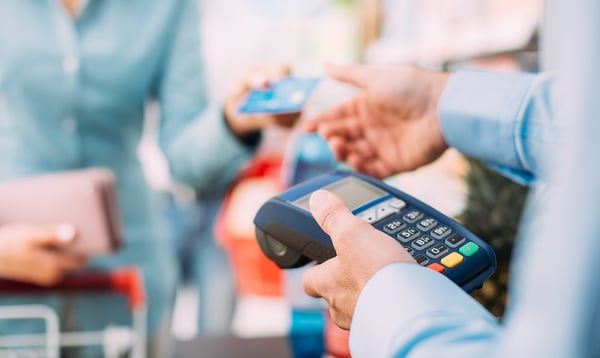 We all know that retail has changed dramatically in the last decade. Where once we relied on department stores and indoor malls for shopping, we now count on convenience, a shift towards restaurants, travel, and niched shops, all with a greater focus on the experience of the consumer. If you own or are considering opening a retail space, you're likely wondering whether these insights can help you survive and thrive in today's retail market.
Weathering a sea of change
Some of the clearest consumer trends over the last decade include:
Sophisticated, educated shoppers
Convenient online shopping
Preference for tailored selections
A value for experience over materialism
Increased travel and restaurant spending
Despite a GDP that grew steadily for years, in 2017 major department stores began closing stores and/or announcing bankruptcy. Stores that in the past were the staple of shopping centers (such as Kmart, Sears, J.C. Penny, Gymboree, The Limited, and Macy's) experienced the impact of those changing trends. How have other retail businesses strived during the change?
Successful strategies
Some major stores (such as Target) weathered the change of shopping habits by reducing store footprints, allowing for a more "boutique-like" experience and reducing inventory and overhead costs.
Target first explored this concept in 2012, and has since opened over 30 small-format stores. These stores cater to the modern shopper, who prefers a more tailored selection and a cozier feel in the stores they frequent. Other major stores (such as Sephora, Kohl's, Best Buy, Walmart, Gap, and Nordstrom) have also focused on small footprints to garner the attention of today's shopper.
Convenience became king when online shopping arrived in force. Amazon, which started as a book reseller, has completely redefined online shopping, on-boarding a large variety of vendors with competitive pricing, fast delivery, and low prices. This resulted in a significant negative impact on brick-and-mortar-stores.
To add to this dramatic change, for a large segment of shoppers, in-person, brick-and-mortar shopping changed from a place to purchase goods to a setting to enjoy the experience offered by the concept of the business, and in many ways, the community built by the business.
Gear Coop, located in Costa Mesa, California, is an example of a store that has successfully catered to their target market by creating a community both online and at their brick-and-mortar. With an interactive and robust social media presence, as well as the use of ambassadors known and respected by their target market, Gear Coop shoppers feel they are part of the greater community of like-minded shoppers, giving them a sense of belonging and accommodation.
It features an indoor bouldering section for complimentary use, which also serves as a way for shoppers to try out the gear they are purchasing. To further add to the community aspect of Gear Coop, the store hosts weekly events for the rock-climbing community and other special events that bring over 500 in attendance.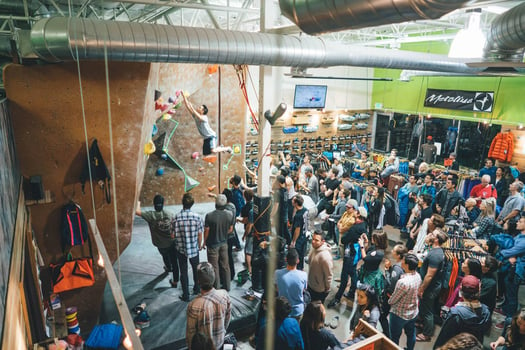 (Photo Credit: Gear Coop Facebook)
In order to meet the need for fast, convenient shopping, third-party delivery and driving services emerged. These businesses allow consumers to "shop local" without physically visiting stores.
An example is Seamless, a popular app that delivers foods from local restaurants, allowing you to get fed with very little disruption to your life, and Postmates, which partners with local stores and restaurants for quick deliveries. While there's an added cost for using delivery services, many consumers value the time-saving benefit of this convenience, and are willing to pay for it.
We've also seen a huge shift in consumer spending preferences. Where clothing was once a major spending category, the focus has shifted to entertainment, restaurant, travel, beauty, and wellness.
These shifts challenged many major and small businesses, resulting in closures and bankruptcies. Others were able to evolve with the needs of the consumer and find creative ways to survive in the retail market. But is brick and mortar retail still relevant today?
Why brick and mortar retail is still relevant
Brick and mortar stores add value to communities in ways online stores do not.
They play a large part in the wellness and economics of their community. Despite the many changes in the retail market, including an online retail growth of 300% during the last eight years, cities need to encourage the growth of retail.
Communities benefit greatly from brick-and-mortar sales; a significant larger amount of brick-and-mortar sale proceeds circulate within a city compared to the same money spent at a big box store.
Consumers do appreciate the value of brick-and-mortar stores.
The recent research by the National Federation of Independent Business and American Express found that 94% of respondents say that shopping locally makes them feel good.
While there was a dip in the last few years, shopping in local stores is now back on the rise: 44% of consumers chose to shop at brick-and-mortars in 2018, compared to 40% in 2015.
An increase of retail brick-and-mortar shopping brings added value to communities.
When brick-and-mortar stores cater to the local target markets, consumers can support their local economy while having an array of convenient choices. Though not all local stores increase property value, those that offer a niche or specialty have a positive effect on property values.
And it's no small feat that retail jobs account for over 4.8 million jobs in the United States. As a result of brick-and-mortar stores, cities experience growth in business revenues and can attract more business to their cities.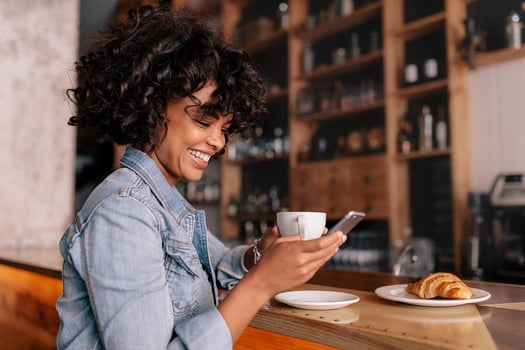 The challenge is your motivation
If we fully understand the challenges of today's retail businesses, we can move towards success by thinking in ways that match consumer needs. Smart retailers understand that they need to use a mix of available resources to attract shoppers and turn over inventory.
With the knowledge that consumers are hungry for experience and look for tailored offerings, retail business owners can shift their mindset to think holistically, knowing that today's consumer requires connection and convenience at the same time.
Every business must ensure that their sales come from more than one source. Retail owners can achieve this by using strategies like:
Signing on with delivery services
Offering interactive and personalized website experiences
Creating an environment (digitally, e.g. social platforms, website and/or brick-and-mortar) that connects both emotionally and psychologically with the target market
Selectively offering goods that entice target markets.
Retail owners can benefit from creative, out-of-the-box content marketing that helps the business reach its goals by meeting the specific needs of the target market. Many businesses have also found that partnering creatively with like-minded businesses enhances the consumer's experience.
For instance, Nordstrom's, a favorite shopping destination for mothers of young children, invites local businesses that cater to this target market for special events. Another partnering that has proven to increase sales and create synergy is restaurants such as Terrace by Mix Mix, who hosts sold-out events at their restaurant like "Dinner and a Mixtape" with a local well-known DJ.
Today's retail owners need to use a variety of strategies to compel their target market. By doing so, they increase their value to their communities while their business thrives. You can do it, too! Stay tuned for more articles coming your way on how we can help you weather the sea of change in retail.
---
For retail commercial real estate insights, leasing and consulting, please contact us.