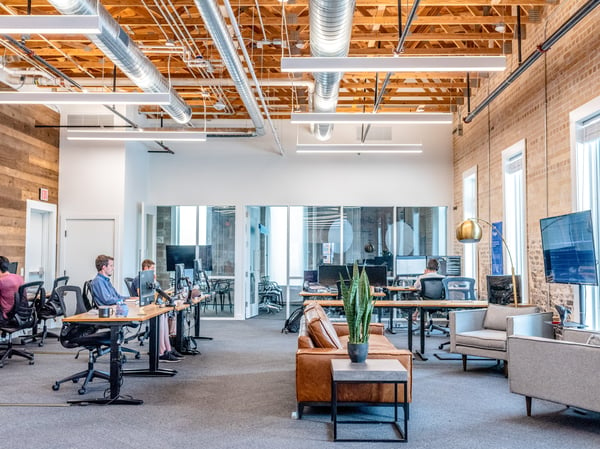 Co-working space is a trending topic in social media and the news lately, especially with the recent news that WeWork filed for an IPO. Is a co-working space right for your business, or should you lease office space of your own?
What is a co-working space?
A co-working space is a flexible, short-term lease to share a fully-equipped communal workspace. While the buzz may be new, the concept of co-working spaces is not. Regus was the first to open a co-working space in the 1990s. However, in the last decade, millennials have joined the workforce, and one thing we know about millennials is the value placed on experience — not just in personal life, but in the workspace as well.
The perks of co-working space invite Millenials, such as the comfort of a kitchen with coffee ever brewing, spaces to have comfortable meetings and build community, entertaining areas to blow off steam (ping-pong tables, etc.), open layouts, and minimalist, modern décor.
Some of the benefits of co-working
Where once the "coffee shop entrepreneur" met her office space needs via her laptop at the local coffee shop and/or by working from home, she can now enjoy benefits including:
A "hot desk," dedicated desk, or small office space
Printing nooks and equipment
Comfortable, unique common areas
Cleaning service
Kitchens with ever-flowing coffee
Immediate move-in
Furniture is included
Meeting space (often for an additional fee)
A co-working office manager
In addition to the benefits above, one of the primary reasons entrepreneurs and small companies choose co-working spaces is for the perk of networking with the other businesses in the space. Co-working spaces recognize this added value by hosting member-only events and networking opportunities. Some of the events feature their members, but often outside resources provide classes and events. In a recent conversation, a tech start-up that had leased space at WeWork reflected that while he could've done the same work from home, he leased at WeWork for a year to network with others. The access to complimentary businesses in the same space he worked was beneficial to kick-starting his tech consulting business.
What's the cost of my hot desk?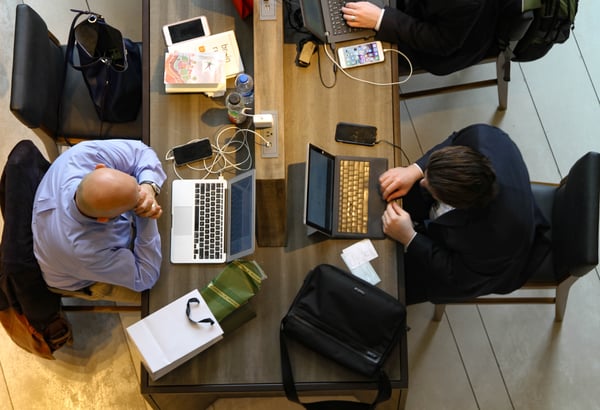 At a co-working space, a "hot desk" is around $400 a month (per person) in Orange County. A hot desk is the ability to bring your laptop and whatever you need to do your work in the community space. An assigned desk is one that is yours to use every time you work in the space; that starts at $500 a month (per person) for most co-working spaces in Orange County. If you'd like dedicated office space, you'll spend close to (usually more than) what it would cost to get a traditional office space.
Most businesses lease a traditional office space
Co-working spaces have been around since the early 1990s. While co-working has gained greater popularity, in major industries they only account for about 1.7% of office leasing. Despite the Millenials' interest in co-working, most businesses of all sizes prefer the benefits of traditional office space for meeting their commercial real estate needs.
Some of the benefits of leasing your own office space include:
Privacy: This is very important when working with sensitive information and the need to protect client data.
Focused work environment. Studies show open office layouts are distracting for office workers.
Ability to brand and have signage for your business.
Dedicated office space and a desk that is always available to you.
The professional status that comes from having your own business space often outweighs the networking opportunities provided in a co-working space.
Control of décor and the interior image of your office.
Ability to schedule meetings at any time.
How much will I pay for my own office space?

The cost of leasing office space varies greatly by location. However, in Orange County, the average office space starts at around $1.50 per square foot. For a small company of one to five employees, entry to your own office space maybe around $750-$1,200 a month. Like many co-working arrangements, you may be able to lease for a year, but much of the time you'll be asked to sign a three-year lease. Using a commercial real estate broker, you may be able to negotiate for a month or two of free rent and/or a lease agreement that saves your company overhead costs, including the cost of signage. Additional costs include office furniture, equipment, and staffing (if needed).
Which is the best choice for me?
Whether to lease traditional office space or co-working space is not a black and white decision. Even with co-working, most places require you to sign a lease. You need to consider your short- and long-term business goals to see which space best helps you achieve them. Various factors, such as privacy, networking opportunities, signage, easy entry, cost, longevity, and more must be studied to determine the best option for you.
A commercial real estate broker in your area is the best resource to start with. After an initial phone conversation and meeting with the broker, you'll receive insights and data that will guide you in making the ideal choice for your company. Whether it's a co-working space or a traditional office, a broker is able to provide representation to you to ensure that you're offered the best lease terms for your new space.
---
For office and retail commercial real estate insights, leasing, and consulting, please contact us.