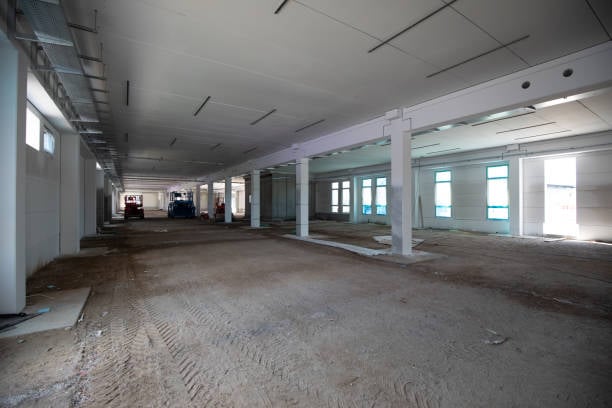 Most commercial spaces require some amount of renovation before a new tenant can move in. Commercial leases for office, retail , and industrial spaces often include provisions for the landlord to help pay for improvements prior to the tenant moving in.
Tenant Improvement Allowance or TIA is a common part of lease agreements. Landlords will reimburse a fixed amount for the renovations carried out by the tenant. The construction is tenant-controlled with landlord oversight in most cases. This is a way for landlords to sweeten the deal for the tenants and also invest in the continuous renovation of the space.
But what is a reasonable TIA? TIA varies a lot depending on a variety of factors. This blog will attempt to shed some light on some of the important aspects you should know about TIA.
How Does TIA Work?
TIA is a one-time concession for office renovations that the landlord agrees to pay (typically denoted in dollars per square foot). Many businesses prefer having a custom space that will require construction. The question is: who bears the cost?
In some cases, the landlord may provide a turnkey build-out. A turnkey build-out means that the space is built to approved tenant specifications by the landlord with no tenant involvement in the planning or construction.
Alternatively, the tenant foots the bill for these office renovations and the landlord pays a part of it.
In most cases, TIA is a reimbursement and not paid in advance; therefore, tenants must make the initial payments. Landlords will reimburse a portion of the costs but construction costs exceeding the negotiated TIA must be footed by the tenant.
The pandemic has caused a spike in office vacancies. . While there is an uptick in office leasing transactions, the office vacancy rates are still high in most cities. As such, landlords are looking for ways to get tenants on board.
For tenants taking up new space, TIAs give them a chance to relieve themselves of some of the construction costs. For landlords, TIAs are beneficial because as tenants move on, the renovations will still stay, making their space more appealing to future tenants. Negotiating a TIA can present a fair deal for both tenants who are looking to customize their space and landlords who are looking to upgrade and improve it.
TIAs can vary depending on the lease length, rent amount, and square footage, among other factors. TIA's can vary from $10-$45 PSF or more depending on the type of use and length of lease term. While your broker will help you negotiate TIA into the lease agreements, let's first take a deeper dive into the cost factors influencing the amount of a TIA.
What Can You Include in TIA?
You can include most of the construction costs incurred for reimbursement in a TIA. This does not include "soft costs"-legal and consulting fees, and furniture.
Structural modifications, flooring, paint, cabling, HVAC and other such expenses can be included in a TIA. It is also favorable to include the landlord in planning so that the new construction proceeds with the landlord's approval at each step. While construction may be directed by the tenant, keeping the landlord informed during the process is integral to an efficient renovation.
It is also advisable to look at competitive bids before making the call for construction management. This will ensure transparency with the landlord and reassure them that the build-out costs are comparable to current market rates.
What Determines the Amount of TIA?
TIA varies quite a lot from property to property. The type of property, the length of occupancy, and the square footage are all important factors in determining how much TIA is reasonable.
You can negotiate with your landlord for TIA irrespective of whether they offered it or not. Knowing which aspects affect negotiations is a good idea before stepping into it. Here are some of the determining factors.
Property Use
Property type and how the property will be utilized is the first factor to consider when deciding whether negotiating a TIA is appropriate.
Office spaces top the charts when it comes to TIA. Many offices are different and have to be planned according to the specific needs of the business. Given this, an ample amount of work must go in before moving into the space – especially in the case of large spaces with a lease term exceeding seven years. As a result, TIAs are quite common in office lease agreements.
Sometimes retail spaces have similar layouts and not much improvement is required, save for electrical work and brand-related work. And is some cases like national boutique retail chains branding is included in architecture build out costs can be high. In many cases, landlords will agree to pay a portion of the construction costs.
Restaurant spaces often have to be completely reworked to align with the tenant's needs. The leasehold improvements may include work on the visual appearance and hygiene, both of which can be covered in the TIA. Landlords may be willing to negotiate for larger TIA in the case of massive improvements to the property.
TIA is also included in industrial lease terms but not as commonly as in offices or restaurants. Most industrial spaces are designed to house instruments and machinery or act as storage. In these cases, there are not many alterations that would be needed to improve the space. TIA is usually included to cover some of the expenses that the tenant incurs but it is not as high as the other property types. For example the owner of an industrial building may help pay for an upgrade in electrical service or adding specialized rooms within the building.
Who is the Landlord?
The type of landlord is a critical factor in determining the TIA. For small mom-and-pop landlords who do not operate at scale and own just a few properties, it is less likely that they will pay TIA for renovations. Most of these landlords will not be willing to put in extra money for renovations and would likely be content with lower rent too.
If the property is owned by a small real estate investment company, the chances of negotiating a TIA into the lease arrangement are higher. Of course, this would depend on the length of the lease and the rent amount. Small real estate investment firms prefer to give incentives like free rent for a month or two to keep the tenants engaged in lease negotiations.
On the other hand, large real estate investment companies offer attractive TIA for their clients. Most of the properties they own are 4 and 5-star properties, giving additional incentives to tenants looking to rent their space.
The Length of the Lease
As mentioned above, a lot depends on how long you are going to lease the property for. If the length of the lease term is longer, the TIA will usually increase. Not only is this a great way for landlords to keep tenants for longer, but tenants are also able to spend more to set up their establishment without worrying about renovations in the next few years.
The Square Footage of the Space
Like the length of the lease, the area you are leasing will determine how much TIA you can get. This is very common in office leases where the landlords prefer large spaces being leased for longer terms. They will be happy to negotiate a higher TIA if you are taking up a larger space.
The Tenant's Financials
Lastly, the tenant's financials are critical in determining the TIA. Landlords look for a stable tenant who can pay rent in good standing and TIA serves as an incentive for the tenant to sign on. Typically, the stronger the balance sheet of the tenant, the higher the TIA.
Conclusion
The Tenant Improvement Allowance is a common in many commercial real estate CRE) lease agreements To determine how much TIA to request, first consider the various factors influencing the amount, such as property use, landlord type, lease length, property square footage, and tenant financials. Also, talk to your broker! They will help you summarize and negotiate these factors..
The pandemic has changed the way some businesses operate. This is especially true for offices. There is a huge list of needs for tenants today. Higher than average vacancy rates in office properties mean that there are more available options to choose from. Landlords who offer higher TIAs are likely to close deals quicker.
Negotiating with your landlord for a TIA is a great idea. No matter what your business is and how much space you are renting, you should consider requesting a TIA during your lease negotiations.
Leasing a commercial real estate property is an expert's job. At Aspect, we help organizations like yours find their dream spaces with the help of our extensive knowledge of the Orange County commercial real estate market. Talk to us today to find the best deal for you!