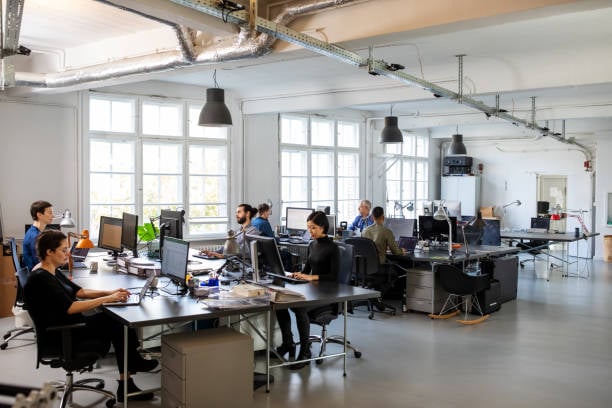 Finding the right office space can be a challenge for any business, and with the uncertainty created by two years in a pandemic, it requires more consideration than ever. Any conversation about commercial real estate will start with the size (square footage) of the space you want to rent. This makes it easy for you and for your broker to narrow down potential properties and determine which one fits best.
However, understanding what size you need can be trickier than you expect. In this blog, we'll get into the details and provide you with an approach to determine how much square footage you need!
What Factors Should You Consider Before You Start Planning?
Before you get to planning your office space requirements, it's a good idea to look at a few key aspects including:
Layout and floorplan
How COVID has impacted your work processes
Future growth plans
Employee-friendly amenities
Let's take a look now at each one of these factors.
Layout - Open Space or Private Offices?
This basic layout has a significant impact on the overall amount of office space you'll need. Open office plans with cubicles, shared spaces, and work areas have become commonplace but since the pandemic, there's renewed interest in private work spaces and private offices. It all depends on the style of working you adopt and the general culture of your team.
If you need privacy to discuss confidential information, if you're a law firm or a financial advisor, for instance, a traditional layout might be a better fit. Open-plan offices by design tend to foster more collaborative environments. Businesses that rely on their employee's creativity and synergy such as marketing companies and software companies may benefit from this type of office layout.
Here's another critical question to answer. The pandemic has forced many organizations to adopt a hybrid approach to their workforces. Employees are given the option to work from home for some days and come to the office on other days. If you're doing this, your office space requirements have changed considerably. If you are adopting a work-from-home or hybrid approach, the total square footage you need will likely be lower. A hotdesk system can work well if only part of your workforce is on site at any given point of time, and save on office space.
On the flip side, the pandemic has also impacted "square feet per employee". To stick to a new standard of social distancing, you may opt for more office space per team member, which could balance out space savings from hybrid work.
What additional employee amenities do you plan on offering?
When it comes to amenities, there's no right or wrong answer. Every team is different, with different requirements and budgets. That being said, some office amenities and spaces are a no-brainer and are absolutely essential to have, while you'll want to sit and think about others. Some employee amenities you should consider are:
Quiet rooms
Recreation Area
Kitchen
Break Room
You'll need to consider these based on your business type and budget. If you have most of your workforce on site, working full hours, greater amenities can yield higher productivity. On the other hand, if your team is primarily remote, it might make sense to invest that cash elsewhere.
Your Growth Plans
You should also take the future growth of your organization into consideration. How many new employees are you planning on adding in the coming few years? Are you going to transition back from a work-from-home or hybrid arrangement? You need to account for future space needs, too, not just what you need at present. New employees equate to more than just workstations but also ensuring that other facilities like your kitchen, break rooms and restrooms can handle the increased traffic.
Calculating How Much Office Space You Need
Now to the critical part: calculating how much space you need overall. Architectural firms begin with complex "Space Programs". If you're a smaller office and have no need to hire an architect for your space plan, a simple spreadsheet accomplishes the job satisfactorily. We have created our own space program sheet which will quickly approximate total office space requirements.
We begin by listing the space requirements and assigning a certain square foot space for each area and also take into account the headcount and the per square foot area you are aiming for. Determining the area needed for each space also depends on the density you want in your office.
Density is an important factor, especially after the experience of a pandemic environment. Densely packed offices usually have 60-100 square feet per employee, while larger offices have 150 -400 square feet per employee depending on the business needs.
Even prior to the pandemic, employees were used to having more personal space. And in today's environment, social distancing norms demand even lower density. Once you know the average density you want, you can assign an area for each type of space in your list. Here are some general suggestions:
Private Office - 100-200 sq ft
Executive Office - 200-400 sq ft
Reception area - 100 Sq ft per visitor seated
Kitchen - 250 sq ft
Copy / Filing Room - 200 sq ft
Conference Room - 150-500 sq ft
Server room - 250 sq ft
Lobbies and Hallway Space - 25% of the usable square footage
Cubicles, Bullpen, or coworking areas - 60-100 Sq ft per employee
Other additional spaces - as needed
Once you add up these details, you will get a fair idea of the total office space you would need.
Remember, there is no hard and fast rule about space allocation when it comes to office design. It is important to consider how the office space will be used so that you can allocate the right amount of space.
Final Steps
Office space calculation is not straightforward. It is even more complicated in a hybrid style of working. You need to make sure that the office caters to the changing needs of your employees. The culture of your organization and how you work is just as important as where you work.
It isn't exactly rocket science, though. By utilizing a Space Program, you can get a rough idea about the office space you need with just a few clicks. This approach gives you a good starting point to determine space requirements for your new office.
Using the help of experts is always a good idea while planning for your new office. These professionals will have a better understanding of how to translate your ideas into functional office spaces and also help you determine how much space you would need and also help you develop a floor plan.
Our brokers will help you find the right space and for the right terms. Talk to us today!