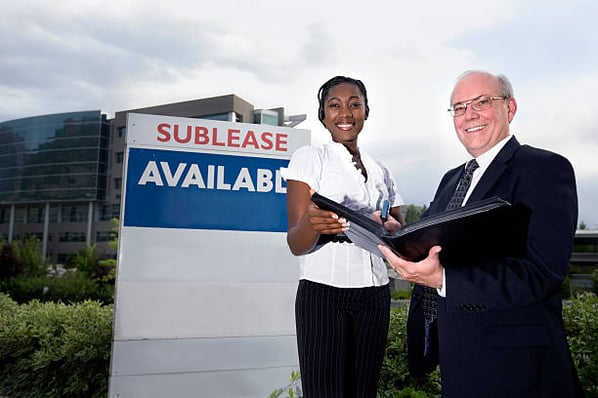 Commercial real estate has been a tricky market to navigate over the past few months due to the pandemic. There are still no clear signs as to when businesses will be planning to return to offices in full strength. The delta variant sparked many concerns globally in 2021, and we are currently in December watching news about omicron.
For businesses impacted by COVID-19, one of the ways to rebalance your cash flow is to sublet the office space you're occupying. With most organizations still working from home temporarily, or even having chosen to go fully virtual, there are a lot of options for small business tenants to explore ways to monetize the time they have left on their lease agreements or to make use of the unused space they are renting. That isn't to say there aren't challenges: everyone's had
their bottom line impacted by COVID, and it can be tough to find a new lessee, even at competitive rates.
Given the situation, commercial subleasing is an option many businesses are at least considering right now. What is really encouraging more tenants to consider this option is the fact that there has been a decline in the sublease space available across the country in Q3 of 2021 mostly because businesses have been subletting spaces with attractive terms.
So the big question here is, should you sublet your commercial space? What are the pros and cons of this? How do you go about this in such a way that you get the best benefits while mitigating risk? Let's try to answer these questions.
Understanding Commercial Sublease
A commercial sublease is essentially renting out the whole or a part of the commercial space you have leased to another organization for a fixed period and rent. The sublessor and the sublessee enter into a
sublease agreement that defines the lease terms.
.
There are 2 important things to note in this. The
sublease
agreement does not supersede the
master lease
that you have signed with the
property owner. You also need consent from the property owner to
sublease the space.
For small businesses that are starting up or need limited seats in an office, leasing a whole office may be less than ideal. Subletting
office space allows them to have an office set up for themselves that meets their needs, and they also have access to common areas
and amenities such as rest areas and bathrooms.
Why Should You Consider Subletting Your Commercial Space?
It is common to see commercial leases that extend for a long period of time—even up to 10 years. Most of these leases were signed before the pandemic, and terminating prematurely, before the end of the term, could mean financial losses.
One of the other reasons why businesses are thinking about subletting their office space is their need for a bigger space. Yes, we're still living through COVID. But in the recovery period, many
businesses in niches like IT have actually seen promising growth - they're considering ways to expand without taking too much of a hit to still-fragile cashflows.
Let's say you're on a long-term lease, but you need a bigger space as you have grown. However, you don't want to incur the penalties of prematurely canceling the master lease agreement. In this situation, subletting is a viable option.
Let's take a look now at some of the more specific reasons why you should consider subletting your office space.
Generate Revenue from Excess Capacity - the Unused Space in Your Office
Your office space might have been planned based on the needs of a full-strength workforce, and to accommodate future growth. In the current scenario, between reduced growth and the rise of work-from-home, many businesses have a considerable amount of spare office space that's sitting idle. One option here is to scale down to a smaller office, but, as mentioned, premature termination will have a financial impact, and moving out means reducing your ability
to scale your office use once things get back to normal. Subletting
allows you to retain the office space for the time being, and also cover a part of your rental expense in this way.
Subletting is typically allowed i
n a
master lease agreement
with landlord consent and
their
approval
of the
subtenant.
The sublease
will be a shorter term compared to the master lease since a portion of the initial term defined in the master lease has already passed.
In a sublease, the
subtenant is
bound by the terms of the master lease
and any terms that you might add. This is especially
tr
ue
if you're renting
a portion of your space while you continue to occupy and need to set
up
rules for shared use.
A sublease is

legally binding.
Ideal and Flexible Short-Term Cover
One of the biggest benefits of a commercial sublease agreement is that it offers
the
flexibility
of a shorter term
,
thus decreasing the total commitment in rent
giving both the
sublessee a hedge against
uncertainty.
For the sublessor, subletting can help you address short-term uncertainty by providing an additional revenue source. You recover some
rent
expenses, and at the same time
allow yourself time to decide what to do with the
office space
in the long term, whether you're
going to stay on or scale down.
Soft Factors
There are some great soft factors in play too. No one likes working in empty offices! Subletting the underutilized commercial space
can help moral and increase synergy within your business.
It is also a more sustainable practice. Underutilized
leased space expenses such as electricity and janitorial.
What Are the Cons of Subletting Your Leased Space?
Having a subtenant
can be challenging
. Here are some
potential issues with subletting a commercial property.
Finding a Suitable Subtenant is Not Easy in Today's Office Market
Like with any rental or lease arrangement, finding a suitable subtenant can be difficult. In today's economy, many office tenants are looking to downscale. Even if that doesn't describe you, it likely describes many of your potential sub-lessees. What we've found at Aspect is that, even when our commercial tenant
clients want to sublease, they're struggling to find tenants within a reasonable timeframe. While there are definitely good reasons to sublease, I
n a
higher office vacancy
market as it i
s,
it's challenging to compete
with landlords
who are
offering
aggressive
incentives
to new tenants.
Even if you do find businesses interested in subleasing from you, there is more to it. Given the nature of the asset and the risks you are taking on, properly screening the prospects, and having a watertight commercial sublease agreement is mandatory.
You Are Taking on Added Risk
As the original tenant, you are ultimately responsible for paying rent and
the condition
of
your
space. T
here is always the additional risk
that your sublessee may not
pay rent or
damage
your
leased premises.
You May Not Cover All Your Expenses
The lower-than-standard monthly rents that are common in sublease arrangements are what are attractive to small businesses. Y
ou may
not be able to break even depending upon
market
conditions.
Rent payment defaults by the sublessee and other damages that may be incurred ultimately do affect you - these are additional financial costs
if things go wrong.
What Should You Keep in Mind While Subleasing?
Subleasing needs to be done with proper care—so make sure you talk to a qualified commercial real estate broker like Aspect. Since there are multiple parties involved, you have to be careful in order to realize the maximum value from the arrangement. Here are some of the things to take care of.
Secure Your Landlord's Consent
Having your landlord's consent is mandatory before you consider subletting
the space. You need to
confirm
that your
original lease
allows for this, and also has suitable terms to
give you the cover you need.
Proper Scrutiny of the Prospective Subtenants
As discussed above, before you enter into any arrangements, vetting the prospective business thoroughly is important. You are sharing the office space
with them and there are likely privacy concerns in such arrangements. It is also important to understand their business stability and ability to pay the rent.
A Secure Commercial Sublease Agreement
Needless to say, it is important to ensure that you have a strong agreement signed with the subtenants. The agreement should clearly state the period for the agreement, the number of square feet being sublet, the required covenants, and the terms of the lease.
It is also important to have clauses regarding the security deposit, the late fee
in the event of default from the subtenant, and the new tenant's permissions.
Legal advice is necessary for putting this together to ensure the security of all parties involved.
Work With an Established Agency to Find the Arrangement That Works For You
A commercial lease agreement is in itself quite complex. Subleasing further increases the complexity. If you are looking at subletting your office space, working with an established commercial real estate agency is the best bet.
Agencies like Aspect Real Estate can help you end to end, from creating and sharing listings, screening the right subtenants, and making sure that your interests are contractually taken care of. If you're considering subleasing, reach out to us here at 949-590-8080.