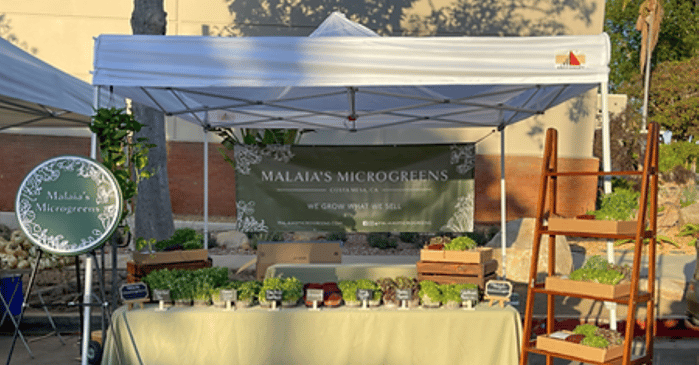 Aspect Real Estate Partners prides itself on helping clients develop and expand their small business by locating a space to help them find success. Our clients, Malaia and Jaebin from Malaia's Microgreens, were able to find their success from humble beginnings. With Aspect's expertise and perseverance, they were able to expand their farm into a 1,500SF warehouse in Irvine's Airport Business Area.
The Client: Malaia's Microgreens
Malaia Martinez and Jaebin Yoo started their hydroponic farming business from a 100SF backyard shed. They built their project from a passion for agriculture, tackling food insecurity by utilizing hydroponic farming to increase crop success using little land and saving up to 90% more water than traditional farms. After expanding their operations into Malaia's garage, they began selling at farmers' markets in Santa Monica, Brentwood, and Calabasas. Their sustained success allowed them to continually seek bigger business opportunities and reach out to Nick Sefarian, our associate at Aspect, to help them secure a permanent place in Irvine.
The Challenge: Stringent Property Use Policies
Nick initially began the search for office, retail, and industrial properties, remaining flexible in the property type to allow Malaia and Jaebin the liberty of envisioning how different property types would best serve their business needs. While office availability was ubiquitous and appealing, their equipment served as a complication in securing an office lease. On the other hand, the asking rent of retail properties proved to be out of their budget.
As a result, Nick was left with finding an industrial space in a market of historically low vacancies and elevated asking rents. It was additionally challenging to find a property that would approve of an "atypical or unique" business use that did not fit within standard distribution or manufacturing use. To accommodate this, he sought out warehouses that were approved for light manufacturing, pet or fitness use, or even quasi-retail spaces. After months of searching and actively communicating with Malaia and Jaebin, Nick found them their ideal space — a 1,500SF warehouse located in the heart of Irvine's Business Complex.
The Result: A Success Amidst a Tight Market
Now operating out of a larger workspace, Malaia's Microgreens utilizes new hydroponic equipment to serve clients across OC and LA. As leaders in hydroponic specialty produce farming in Southern California, their mission to improve food security would lead them to pursue their next goal: Plants & People, a non-profit organization that could better serve in educating, assisting, and improving food-insecure communities by employing hydroponic farming technology.
We at Aspect had the pleasure of bringing Malaia and Jaebin closer to accomplishing their business and personal goals. Whether you're looking for your first commercial property or hoping to expand into another location, Aspect Real Estate Partners can help you find a prime location for your business.